Sushi MasterClass is an idea aimed at transferring professional knowledge about the sushi business, which is based on the highest quality product and perfectly mastered technique, in accordance with the principles passed down for generations by masters. Sushi MasterClass, organized periodically, free workshops aimed at professionals related to the sushi market segment. Our goal is to bring the sushi business closer to all those who are interested in developing and creating a creative culinary offer for their customers. The art of making sushi can be a challenge, but also a great business idea, you just need to know where to start.
What do the participants say about Sushi MasterClas?
When and where?
Meetings are held all over Poland:
Szczecin – 09/06/2022
Poznań – 09/08/2022
Warsaw – 20/09/2022
Białystok – 22/09/2022
Krakow – 04/10/2022
Katowice – 06/10/2022
Łódź – 18/10/2022
Wrocław – 20/10/2022
Gdańsk – 15/11/2022
Toruń – 17/11/2022
Rzeszów – November 29, 2022
Lublin – December 1, 2022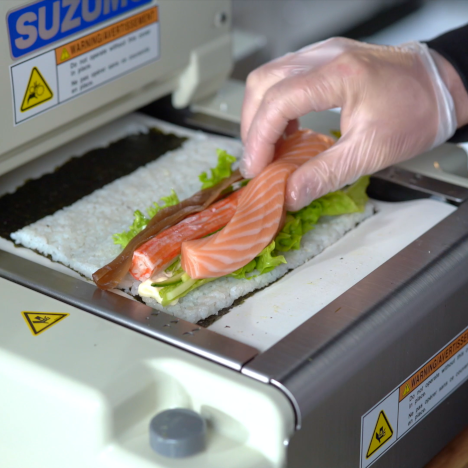 What will I find out at Sushi Master Class?
Knowledge about the history of sushi and the art of its preparation passed down through generations is an inspiration for today's sushi chefs. That is why we start from the very beginning and then talk about how technology development can go hand in hand with tradition and additionally contribute to business success.
We will discuss all of this at the meeting:
History of sushi / Philosophy of the dish
Yasuke/Sushi Chef
Shari / Sushi rice
Neta / Characteristics of ingredients
Manaita/ Deska
Edomae Sushi / Atarashi Sushi
Where it takes place Sushi MasterClass?
Meetings are held periodically in various cities in Poland.
Katowice – 14.03.2023
Bielsko-Biała – 16.03.2023
Kołobrzeg – 25.04.2023
Szczecin – 27.04.2023
Gdańsk – 23.05.2023
Bydgoszcz – 25.05.2023
Gorzów Wlkp. – 20.06.2023
Poznań – 22.06.2023
Wrocław – 26.09.2023
Łódź – 28.09..2023
Rzeszów – 24.10.2023
Kraków – 26.10.2023
Lublin – 21.11.2023
Warszawa – 23.11.2023
View the calendar of events
Who is driving?
Host - Paweł Trzaskowski
He has been professionally involved in gastronomy for 19 years. Creative head of the best sushi restaurants in Poland, for several years a culinary trainer and lecturer at the leading cooking schools in the country. Finalist of the World Sushi World Sushi Cup Japan 2017, finalist of the Polish edition of Global Sushi Challenge 2015. In 2017 he was among the top twenty sushi chefs in the world, in 2019 he joined the group of 50 best chefs in Poland. Seminarian of the World Sushi Skills Institute and All Japan Sushi Association Certificates. He has a "black belt" sushi – Kuro-obi certificate obtained in Tokyo. It combines the traditional Edomae school with contemporary culinary trends.
Frequently asked questions