Either premium quality or nothing!
– our story begins with this sentence, but before we tell about its author, let's take a small step back.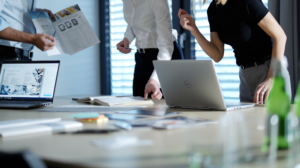 In 2004, Andrei Gejm and Konstantin Novoselov receive graphene for the first time, and six years later – for the first time they receive the Nobel Prize in Physics. Just for his breakthrough discovery. Graphene turns out to be a durable, innovative material with extraordinary potential that will revolutionize the modern industry.
Let's move on for another six years, this time forward. It is 2016. Maksymilian Kultys, the then president of the board of Hendi, creates a completely new brand for the catering industry. It wants to offer restaurateurs comprehensive solutions: from the design of the premises, training, purchase of the best equipment on the market, to professional service. What is he betting on? Reliability, innovative technologies and usability – everything that facilitates running a business and gives the restaurateur a real chance to achieve success. This is when the historic phrase "Either premium quality or nothing." And the premium quality remains, and the new brand is named Graphene.
At the turn of 2016/2017, the company's first catalog is published, with products of well-known brands and a 24-month warranty for each of them. It is a sensation on the market, but in this way we prove that our quality is not an empty slogan. At the same time, we are opening the first showrooms – in Poznań, Warsaw and Wrocław, where equipment presentations and professional training sessions are held at Pizza Forum and Moretti Lab. It is an opportunity for us to meet restaurateurs, enthusiasts from the HoReCa industry, people committed to development and believing in the success of their business. Their goals are at the heart of our actions.
In 2018, the Grafen design office is established, where the visions of the kitchen or a coffee corner take shape, and a moment later – they start to pulsate with life. For our clients, we create a comfortable and functional space, equipped with energy-saving and easy-to-use equipment that they do not have to worry about the lack of qualified employees on the market. We support them with professional knowledge during training, advise and service. If you ask, is there anything on our conscience? We answer yes:
A whole lot of customers who make money from their gastronomic business,
Thousands of premium class appliances sold, working for their success.
We are proud of it, so if you care about reliable solutions, unrivaled quality and continuous development of your company – welcome to the world of Graphene!
Grafen team
The offer includes devices from well-known European manufacturers
Grafen is people
We form a team of professionals and enthusiasts, thanks to whom we build the trust of our clients every year. We want Grafen devices to increasingly support professional chefs in their daily work, therefore: