Your super fast oven for bars and restaurants
From the experience of designing innovative food preparation systems, the new Oracle – all in one from Lainox was born.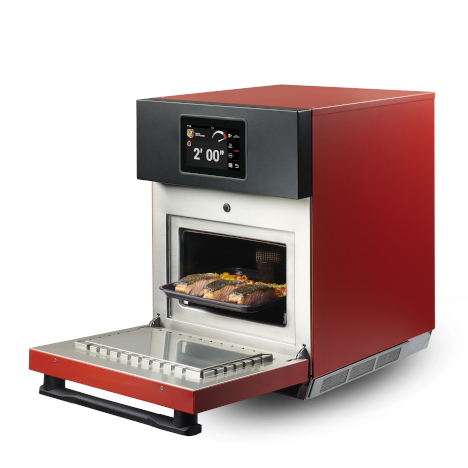 Combi Wave or High Speed Oven?
racle always adapts to your needs. During the preparation phase, it can be used as a Combi Wave for baking brioche or bread, or for using the full power of the oven
At the beginning of work, however, it can quickly turn into High Speed Oven to offer your customers ready meals in a few seconds.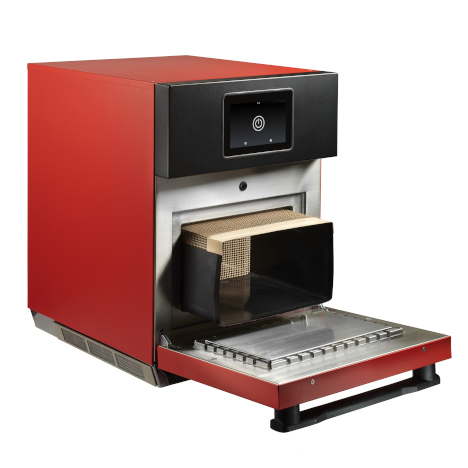 PLUG & PLAY WITHOUT LIMITS
Oracle, being completely Plug & Play technology, can be placed anywhere thanks to its small size, which does not affect the capacity of the chamber, which is very large in this category. It does not require a water connection.
Another advantage of Total Plug & Play is the ability to install Oracle anywhere, as it does not require any connections to the extraction systems.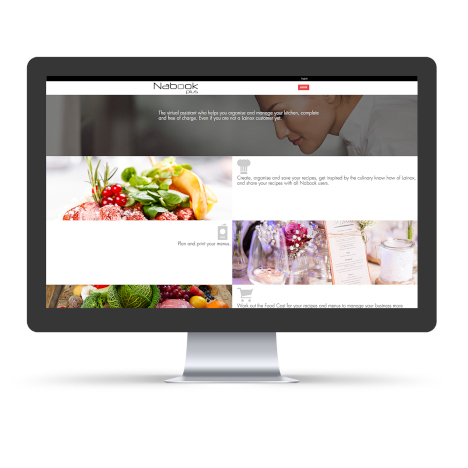 ALL IN ONE DEVICE
From the experience of designing innovative food preparation systems, the new Oracle was born – all in one.
High Speed Oven A working mode that uses convection, microwaves and blowing at the same time.
Fast Cooking System Rely on Lainox Know-How by using proven automatic recipes to cook meals quickly in High Speed Oven mode.
Combi Wave In Combi Wave mode, the Oracle can be used as a convection oven, microwave oven or by combining both modes to achieve results that exceed your expectations.
Microwave Cooking System Rely on Lainox's Know-How by applying proven automatic recipes to your Combi Wave cooking mode.
Connected With Wi-Fi and Ethernet as standard, Oracle connects to the Lainox Nabook portal for free, offering you Kitchen 4.0.

The GDPR has been a world-renowned, Istanbul-based manufacturer of automatic kebab equipment since 1977 and maintains a strong leadership position in its sector.
Since its inception, the GDPR company has a vision of quality, customer satisfaction and continuous technological development. In line with the expectations and requirements of customers, it strives to constantly improve its products in terms of variety, functionality, efficiency and finish. Maintaining the highest quality and customer satisfaction is possible thanks to cooperation with experienced chefs and investments in the development of technology.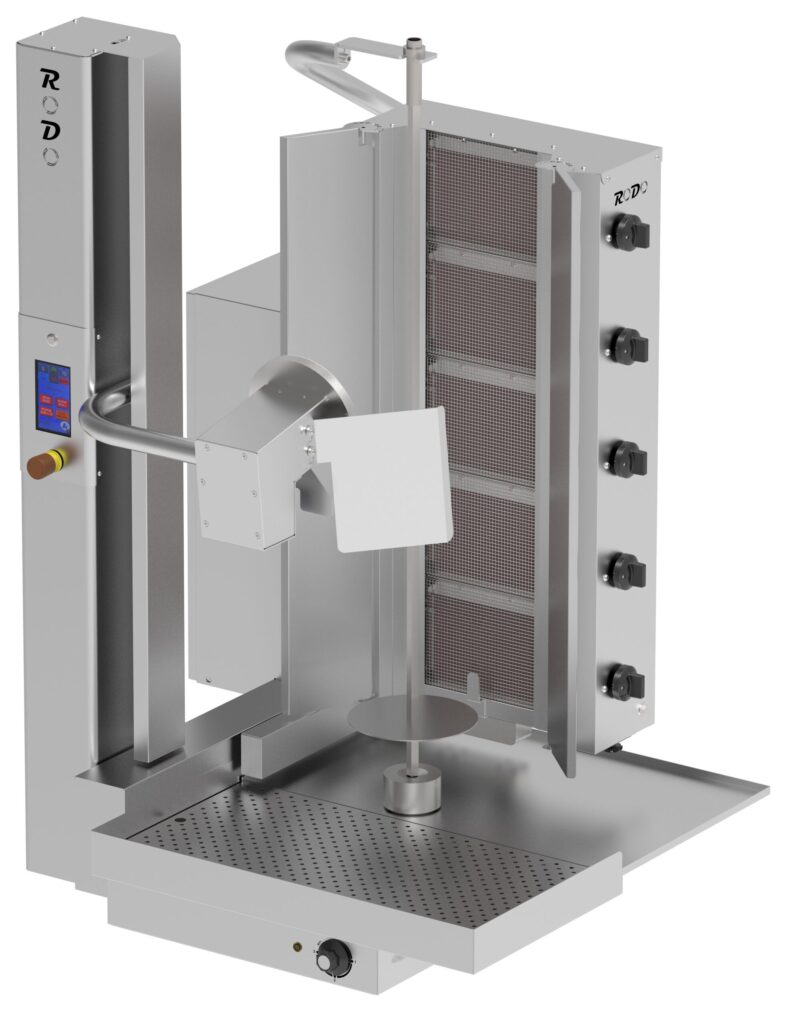 Automatic kebab devices – gas and electric
• Thanks to its minimalist design it ensures ease of use even in small rooms
• Can be connected to natural gas and LPG
• Provides hygienic and non-contact cutting
• Can work without interruption
• Bottom motor (turning in both directions)
• Low energy consumption
• Stainless steel body
• Digital control panel
• Remote control via Wi-Fi connection
• Cylindrical or conical cutting function
• Adjustable cutting speed
• Precise measurement using laser technology
• Precise adjustment of the thickness of the cut

Hop! – for everyone, everywhere, every day
Bake Hop! is a device that will be perfect for many places: gas stations, bars, street food, hotels, restaurants, convenience stores, stadiums, cinemas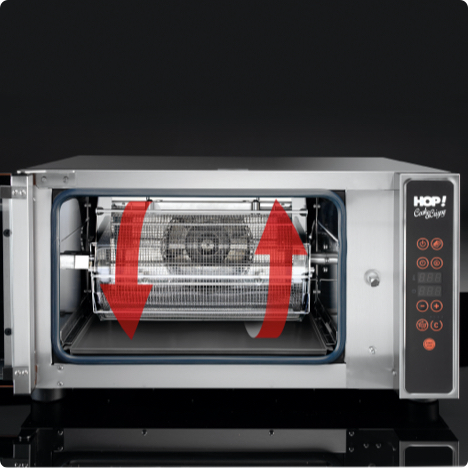 Oven for fat-free baking
The patented rotating basket allows you to manage the preparation of a variety of dishes. Rotation control allows you to get the best baking results for any type of frozen product. Time control affects the crispiness of the product
USB port
For downloading and sharing up to 99 recipes.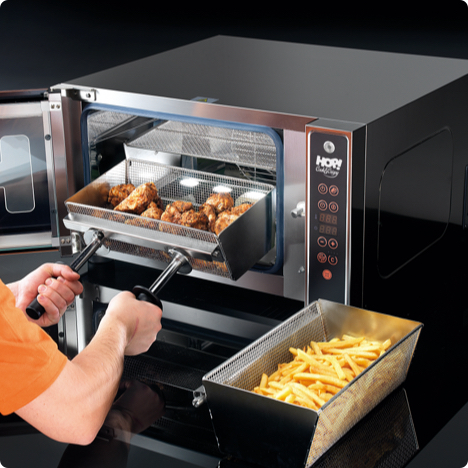 Practical handles for safe removal of the basket
Safe operation without burns
No ventilation
HOP.PRO Ventless does not use hot oil, therefore no need for ventilation in the kitchen can significantly reduce costs. Thanks to the smallest unventilated frying unit in the industry, the HOP offers the highest profitability per square centimeter

Autofry – the leader in fully enclosed and automated deep fat frying technology
Autofry devices are made of American steel, which makes them extremely durable and aesthetically pleasing
do not require the installation of hoods and ventilation, thus reducing costs
remarkable efficiency, even up to 27 kg / h
Expand your menu with high-profit items such as French fries, onion rings, breaded chicken and more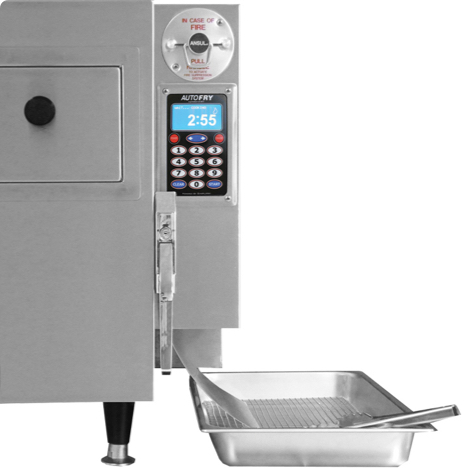 Automatic fryers with a 3-stage odor filtration system
AutoFry is built with SimplifryTM technology, a revolutionary intelligence that compensates for heat and frying time. The cooking time and temperature are automatically adjusted according to the amount of food prepared. This means that no matter how much food is put into the appliance – the fried product will always be perfect in terms of taste and quality.
It's extremely easy!
place the fries (or other frying products) in the input chute and slide it into the appliance
select the frying time on the keypad or a saved program
French fries (or other products) start to fry automatically, and the finished product spills out into a container